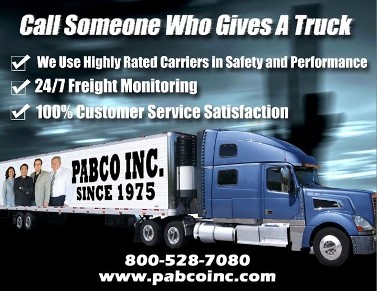 PABCO, Inc. is here to serve your freight transportation needs. We've been licensed and bonded in the trucking transportation business since 1975. We are dedicated to providing quality customer service by keeping our customers informed regarding their loads. We provide personalized attention to each customer's needs.
Some of our services include: Truckload Freight, LTL (partial loads), Back-Haul Loads, Flat-Bed Trucking, Step-Deck Trucking, Specialized Trucking, Equipment Hauling, and Over-Size Loads.
By using our company to move your freight, you lower your overall cost and gives you direct contact with the company handling your shipment and troubleshoots any problems that may arise as your direct representative.
Our rates are established based on several factors: pickup point, destination, and the number of additional pickup and dropoff points. Our rates are very competitive in the existing market and we work closely with our carriers to add value to your company. Please contact us if you have any questions or feedback.